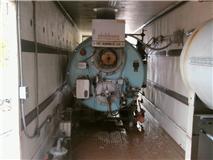 Intermountain Boiler Company was founded in 1969 by Gary McDonald. Since our inception, our mission has been to be a single source for all our customers boiler room needs. Serving the entire state of Utah, Idaho, Nevada and Wyoming, IBCO has been your single source boiler solution for over 45 years.
Our main office, located in Salt Lake City, houses our parts department where we stock over $200,000.00 ingenuine replacement parts. Our 24 hour service department has a staff of certified service technicians and fully stocked service trucks to insure rapid response to all of your service needs.
We also provide training to the operators and supervisors responsible for the day to day operation of boiler rooms and the equipment that is involved. We offer regular seminars or can customize our training to your location.